THONET ASSOCIATES IS A GROUP OF ENVIRONMENTAL PLANNING AND ENGINEERING EXPERTS THAT GIVES COMPREHENSIVE FOCUS TO LAND DEVELOPMENT PROJECTS AND TO MUNICIPAL AND REGIONAL PLANNING
The firm's goal is to provide our public and private clients with the guidance and hard data necessary to make rational decisions regarding land development projects and programs.
In so doing, Thonet Associates Inc. helps its clients to identify and achieve their environmental preservation and land development objectives in accordance with all applicable federal, state, and local environmental and land development rules, regulations and policies.
Our unique client mix from the private sector, the public sector and grass roots environmental organizations is a tribute to the consistency of our approach to environmental consulting services.
---
Thonet Associates Inc.
14 Upper Kingtown Road
Pittstown, New Jersey 08867
ph: 908.238.0473 / fax: 908.238.9164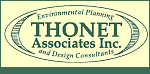 Copyright © 2012, All Rights Reserved.
Web Designs Maintained by JWS Computers, www.jwscomputers.com