---
John A. Thonet
, President of Thonet Associates Inc., holds B.S. and M.S. degrees in Forestry from the SUNY College of Environmental Science and Forestry at Syracuse University . Mr. Thonet is a licensed Professional Engineer in New Jersey , Massachusetts , Michigan , Pennsylvania , and West Virginia , and is a licensed Professional Planner in New Jersey . Mr. Thonet has twenty five years of environmental consulting experience in fourteen different states and US Territories. This experience includes the preparation of environmental studies, assessments and impact statements for hundreds of land and water resources development projects and programs, including the preparation of community-wide and site specific flood plain management maps and studies, community-wide and site specific wetlands delineation maps and environmental planning and development suitability studies for residential, commercial, industrial and recreational projects.
Mr. Thonet has prepared studies for the US Army Corps of Engineers, the US Department of Housing and Urban Development, the Federal Emergency Management Agency Flood Insurance Administration, the New Jersey Department of Environmental Protection, and numerous municipal governments and private development interests.
Blaine J. Rothauser is the firm's chief biologist and senior naturalist, with over twelve years of experience in his field, and holds a B.S. degree in Biology. An accomplished nature photographer, Mr. Rothauser's photographs of the Great Swamp in Morris County were featured at the commemoration of the Thirtieth Anniversary of the establishment of the Great Swamp National Wildlife Refuge and has photographs published in the Star Ledger, the New Jersey Reporter, brochures for the Great Swamp Outdoor Education Center, Shenks Ferry Wildflower Reserve, and the Great Swamp Watershed Assocation. Mr Rothauser is responsible for the firm's freshwater wetland delineation, threatened endangered species surveys, vegetation and wildlife inventories and impact analyses.
Henry M. Reisen is the firm's senior environmental planner. He holds a Masters degree in City and Regional Planning (M.C.R.P.) from Rutgers University and is a licensed professional planner in the state of New Jersey . He has been with Thonet Associates for five years and is experience in a wide variety of environmental planning projects and programs, feasibility studies, including site planning, variance application, recreational planning, development, critical areas analyses, natural resource inventories and environmental impact analyses.
Anthony Castillo has a B.S. degree in Civil Engineering and is currently pursuing a Masters degree in Environmental Engineering from the New Jersey Institute of Technology. Mr. Castillo has five years of engineering experience and is certified as an Engineer in Training (EIT) in New Jersey . He is experienced with computer assisted design (CAD) and geographic information systems (GIS) technology. Mr. Castillo is experienced in the engineering aspects of site plan design and in the design of environmental control elements such as stormwater detention basins, water quality control basins, and soil erosion and sediment control plans.
---
Thonet Associates Inc.
14 Upper Kingtown Road
Pittstown, New Jersey 08867
ph: 908.238.0473 / fax: 908.238.9164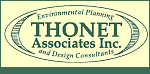 Copyright © 2012, All Rights Reserved.
Web Designs Maintained by JWS Computers, www.jwscomputers.com