---
F
ounded in 1980, Thonet Associates has provided professional environmental, planning and emergency consulting services for over 800 public and private clients, and over 100 municipalities in the states of New Jersey, Pennsylvania, New York, Massachusetts, Michigan, West Virginia, Georgia, and North Carolina.
In addition, Thonet Associates is proud of its services to clients from the environmental community, such as the Great Swamp Watershed Association, the Association of New Jersey Environmental Commissions, the Primrose Brook Watershed Association, the Schiff Natural Lands Trust, the Morris County Park Commission, and many municipal environmental commissions.
Thonet Associates' unique client mix, coming from the private sector, the public sector and from grass roots environmental organizations, is a testament to the consistency of our approach ...all projects must meet each and every applicable environmental rule, regulation, and all environmental protection & preservation programs.
If we can be of service to you, please contact us at john.thonet@thonetassociates.com you can call us at 908.238.0473 or fax us at 908.238.9164. We would be happy to assist you in any way possible.
---
Thonet Associates Inc.
14 Upper Kingtown Road
Pittstown, New Jersey 08867
ph: 908.238.0473 / fax: 908.238.9164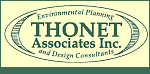 Copyright © 2012, All Rights Reserved.
Web Designs Maintained by JWS Computers, www.jwscomputers.com